In 2012 Yannik Brandt started with karting and since then there is no way to stop him. He finished his second season in the Swiss Rotax Max Championship with P3 and he improved even more in the following season. Yannik won each of the six races and he celebrated his first championship title in his young racing career. In addition he qualified for the Rotax Max Challenge Grand Finals in Valencia where he represented Switzerland in the Junior category. 2015 Yannik switched to the more high-performance DD2-category and rose to Formula racing only a year later. He finished his first season in the ADAC Formula 4 as ninth on the rookie overall list of rankings. In 2017 Yannik is going to compete at the Audi Sport TT Cup and has big goals: The German-Swiss wants to enter the German Touring Car Masters (DTM) in 2021.
Name:
Yannik Brandt
Born:
03.10.2000 in Brussels
Home:
Forch / Switzerland
Active in Motorsport since:
2012
Aims:
2017: Top 5 in the Audi Sport TT Cup
2021: Entry into DTM/LMP1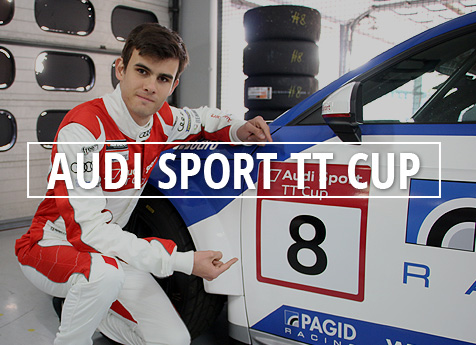 The Audi Sport TT Cup is the perfect entryway into the motorsports world at the brand with the four rings. Within the framework of the DTM the international young drivers are able to present and recommend themselves for further careers. This year, seven racing weekends are on the calendar.
The junior racing series starts within the framework of the DTM – the most popular motorsports-platform in Germany and one of the most prestigious racing series of the world. The DTM-season kick-off is going to take place on the first weekend of May in Hockenheim. The second racing weekend on the Nürburgring is going to be a special highlight, because it takes places within the framework of the 24h-race. Just like before, two races of 30 minutes each are going to be driven at every event.
The racing version of the Audi TT has an output of 228 kW (310 HP) at a weight of only 1.125kg and profits from the technical innovations of the production model – especially regarding lightweight construction. All 24 race cars are supplied and prepared centrally by the Audi Sport GmbH – this guarantees equal opportunities.